Welcome to the rural landscapes of Karvia to enjoy horse riding
Rajakallion Ratsutila has a calm stable atmosphere, where everyone is warmly welcomed. Our clean, comfortable and safe stable is approved by SRL. We welcome each customer as an individual and strive to make everyone have a successful experience with horses. Our horses are kind and suitable for teaching activities, who live naturally in the field and in stables. Our cheerful horses are happy to work and it's fun to get to know each person.
Training is provided by trained and experienced staff.
The aim of the classes is to learn how to make the horses work with as little help as possible and lightly.
For the lesson, we have a fenced and lighted 25×50 size sand field arena, where you can also come with your own horse.
Our stables are surrounded by wonderful, versatile terrains, with endless routes. We also have riding camps for adults and children, coaching, small competitions, etc., all kinds of things with a hobby mind. You can participate in existing services or book separately for your group.
You can contact us with the following form. We will answer you as soon as possible.
Our location on the map. Click and get driving directions to our farm: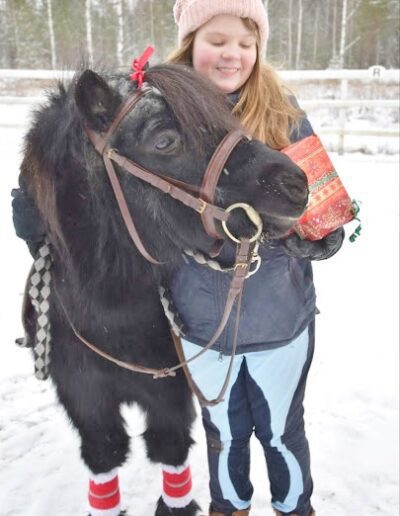 We offer tour packages and experiences for groups of different sizes. The packages can be modified to suit your group's needs if necessary. Or do you long for peace just for yourself? Our target groups are adults and children regardless of age, families and friends, birthdays, bachelor parties, daycare groups, preschoolers, student groups, business groups, etc…
Our horses are calm and it is safe to go on a trip off-road or ride in the arena with them, even if you have no previous experience at all. We have opportunities to offer horses of different sizes, cart rides, sleigh rides in winter, and combinations of these. The content of trips and events is always planned according to the skill level of the participants.
You can bring your own snacks or you can order food from us. We can take a break in the forest or eat at the stable. You can also combine add other activities and accommodation to your trip on the farm. Contact us for the ready-made packages and book your own experience!
Few examples of our ready-made tours and experiences. We can also customize a package for you according to your needs!
Examples of trips and experiences include:
Lunch trip to the forest with the ponies
Lunch trip to the forest while riding
Pampering weekend with horses
Trip to the forest with children and ponies
Cross-country riding trips in the forest
Stable day of wishes, plan your own day!
…